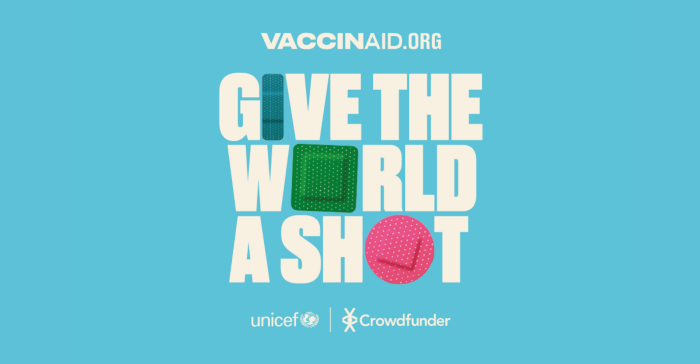 The planet has spoken, and COVID-19 is our reckoning.
We've all been on a tumultuous journey over the last year, which for some of us has allowed us to think and respond differently to our instincts. At the heart of our existence is a need to make the right decisions based on the information we have at hand, and right now with the pandemic, our choice on whether to take the vaccine to protect ourselves and others. However, with that choice, there's also a question of how we can make it available to those without access.
UNICEF UK
has partnered with
Crowdfunder.co.uk
, The Bill and Melinda Gates Foundation and others to deliver VaccinAid, a programme that pledges to deliver 2 Billion vaccines globally by the end of the year. VaccinAid is an attempt to proliferate that freedom of choice and help others with less access, as well as limited privilege to make such a choice.
I will be supporting VaccinAid not only as it is the most promising outcome for 2 billion people across the globe, but because there are three core streams (from my personal perspective) that my position and experience allows me to facilitate and catalyse:
1. Partnerships
The key for any large project is to establish core partnerships with key stakeholders. The caveat here being, we keep in mind the importance of involving all voices in the mission, not just those who have concentrated power. Partnerships between corporates, communities and local organisations serves to build the right momentum and enthusiasm for such work as VaccinAid, and ensures all stakeholders have power in designing strategy and securing vaccine access for the public.
2. Engagement
By creating a space for stakeholders to discuss and engage in the issue of vaccine access and hesitation, their individual preferences and the responsibility to our community, we facilitate necessary conversations and relevant connections that can be adapted towards greater healthcare opportunities for communities everywhere.
3. Champions and support
The work will be driven by a host of champions and supporters from all walks of life. They will bring a plurality of insights, networks and influence to support the cause. By developing a group of dedicated organisations and supporters, we permit the reach of the vaccine further and extend the dome of protection, giving the world a chance!
I'm not doing this alone, we have an incredible team of supporters such as David Beckham, Orlando Bloom, Ramla Ali, Olivia Colman, Andy Murray, Angelique Kidjo, Jeremy Lin, Alyssa Milano and many more.
This really is our moment, we must stand up and be counted. At its heart, we are here to stay healthy, stay alive and leave the planet in a better shape than we received it and for that reason, I hope people will engage, get informed, and get involved! As the phrase goes no one is safe until we are all safe.
Please donate to this incredible cause here.